How can we enable companies to use locally generated energy with maximum impact while making sustainability reporting easier for them?
At the Digital Hub Mobility, we are addressing this question together with corporate partners and start-ups as part of the co-innovation format citizen mobility. Together, we are developing a sustainability accounting infrastructure based on distributed ledger-based technology to report and bill the use of solar energy generated at the company's location for charging electric cars on premise. This will increase corporate sustainability and ease the integration of electric vehicles as decentralized storage capacity in the future.

Our approach
Whenever locally generated energy is used for charging electric vehicles at office buildings or other semi-private sites, both, the monetary value and the carbon footprint, has to be securely audited. To meet this challenge, we are developing a distributed-ledger-based accounting infrastructure in combination with the SAP E-Mobility Solution. To create a tamper-proof connection between the physical infrastructure (solar panels, energy meters, charge pole) and their digital counterparts, we are using a public-key-infrastructure generated by Infineon's Secure Elements. Each item is then equipped with a decentralized identity based on the open source stack of Energy Web and bloXmove. All billing-relevant metrics of the charging sessions, including a tamper-proof proof of origin of the energy, are recorded and linked to the Energy Web Chain. Finally, drivers are incentivized to use the solar power generated on site for charging by displaying current production levels in the App of the local charge point operator ChargeX, while the full track record of all charging sessions including their carbon footprint data aggregator app TRONITY.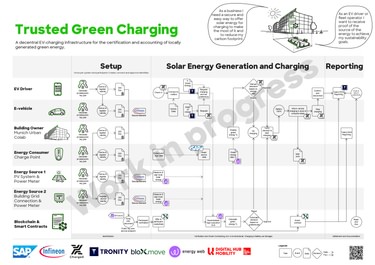 Our Project Partners