Events
MOBILFUNK Livestream: 5G Empowering Digitalization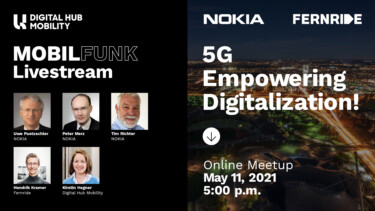 On May 11, 2021 at 5 pm our partner Nokia and the start-up Fernride will give us exciting insights into 5G technology and its role in the connected mobility of the future.

Besides unprecedented mobile broadband experience, 5G unlocks new capabilities for industrial applications, such as ultra-reliability and security, low latency, and Internet of Things. Practical use case examples showcase how 5G drives digitalization in manufacturing and mobility.

Speaker:

Peter Merz, VP Standardization & Research), NOKIA
Tom Richter, Global Head of Discrete and Process Manufacturing, NOKIA
Uwe Pützschler, Head of Automotive & Mobility Solutions, NOKIA
Hendrik Kramer, CEO & Co-Founder, Fernride

The event will be moderated by Kirstin Hegner, Managing Director of Digital Hub Mobility.

The Online Meetup will be held in English.

About MOBILFUNK Livestream:
The new event series of the Digital Hub Mobility. Together with our network, we provide impulses for the future of mobility. We initiate discussions and show ways to sustainable mobility in a livable city.